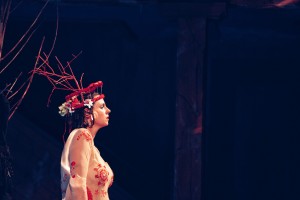 A parade of broken hearts, a tribute to motherhood, a jubilation for the homesick.
Imagine being on a Beyoncé concert, but instead of modern music and a crowded stage show, it's based on swedish traditional music and folklore expressions.
Beyoncé is vocal virtuosity, dance power and popcultural activism. Swedish folksinger Brita Björs is inventing her own folklore diva by interpreting Beyoncé from a folkloric point of view: traditional swedish folksongs in electropop arrangements based on the themes from Bey's album Lemonade, creating divalike stage clothes inspired from national costumes, exploring how to do sexy perfomative folk dance, all enhanced by engrossing video projections, stage light and scenogrophy.
During the rehursals of FMQB Brita found herself being pregnant with her second child – at the same time as Beyoncé was expecting twins! In August 2017 at the opening night Brita was eight months pregnant, dancing off and singing her heart out sporting a gigantic baby bump.
The performance is a big-time one-woman-show created by a great team:
Production: Brita Björs together with Shake it Collaborations
Artistic leader, on stage: Brita Björs
Music: Brita Björs
Director, choreographer: Tove Sahlin/Shake it Collaborations
Costume design, props: Ida Björs
Light, set design: Josefin Hinders
Film, photo, trailer: Max Tellving
Video projections: Alex Pacheco
Mixing consultant: Lotta Wenglén
Folkmusikens Queen B was made with funds from Region Skåne, Malmö City, The Swedish Arts Grants Committee
"Experience her if you have the opportunity. The farmer girl from Hälsingland has reshaped a pop queen on her own terms in a compact version of Beyonce's album 'Lemonade'. Love, infidelity, motherhood and roots. Bright red leggings and pompoms decorating the behind. Choreography, scenography, film and thoght: all of it so good. Sore, thoughtful, fun."
– Newspaper Smålandsposten, June 2018
"Thank you Brita Björs for a great show! Still feeling all fulfilled, touched and overwhelmed, with fireworks of thoughts and impressions inside. It was powerful experiencing your show and I'm deeply impressed by you and what you create Queen Brita."
– Concert organizer Hälsingland Wooden Theater, August 2018